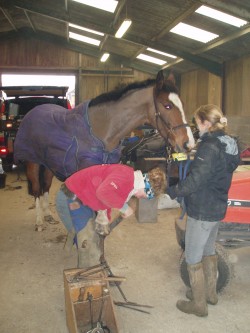 Farrier Abby Bunyard has been impressed with the dramatic difference Mini Horslyx can make to shoeing a difficult horse or pony.
"A client of mine spoke to Horslyx on a their tradestand and it was suggested that she try Mini Horslyx with a pony that required sedation when shod, due to him disliking the part of shoeing when the shoes are burnt on," Abby says. "Originally I was exceptionally skeptical because the pony was dangerous even under sedation, and I couldn't believe that Mini Horslyx would have such a dramatic impact."
"I was astounded to see that the next time I shod the pony we were able to do so without sedation and just with the help of Mini Horslyx. One year on and they are still working – he hasn't had to have the sedation from the vet once! I have since used them on a number of other horses that can be confrontational and I believe wholeheartedly they have reduced any personal injuries to myself and stress to the horse."
"One customer tried a lick from a different company but it didn't have the same distraction effect that Mini Horslyx does – when they realised it wasn't the same product they swapped and the difference was instant! Mini Horslyx are ideal for helping relieve stress and anxiety in horses when they are worried about shoeing – they make the whole experience far more pleasant for the horse, and make my job an awful lot easier."
Many thanks to Mandy Farwell for allowing us to use photos of her horses. Please note that the horses photographed here are not those mentioned in the testimonial above.