Fiona Thomson is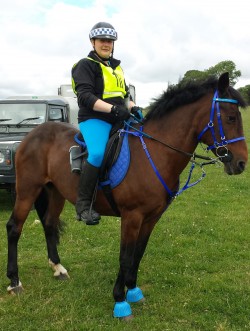 an endurance rider from Aberdeenshire and feeds her horse Comfy Mobility Horslyx.
"My horse Comfy is the oldest endurance horse in S.E.R.C. For a very long time I have given her Mobility Horslyx and this I am sure has contributed to her inner youngster. She always has a 15kg one at hand and a 5kg one when she travels anywhere for an endurance ride.
She is a 14.1hh Standardbred who is 32 and the oldest endurance horse in Scotland (S.E.R.C.). I have had this mare (Southern Comfort aka Comfy) since she was 2 and we have grown up together. We have done everything from showing, cross country, show jumping, driving, PC, breeding etc. She taught my daughter ride and she went on to do P.C. and show jumping on her about 4 years ago.
Comfy is now enjoying her 3rd season of endurance. She completed a 24km endurance ride on Sunday 26/7/15 in a very respectable time and with a finishing heart rate of 46. The same day she then went on to win the 24km Best Presentation award. This entail's the following. You are awarded points for the horses behaviour and your horses trot up for the vet, before and after the ride. Then the speed you finished your ride in and the best heart rates. This is a massive achievement for such an old horse. She is one in a million and absolutely amazing!!!!"