We caught up with Ambassador Cara to hear all about a very exciting development – the prospect of competing at an International!! Plus Cara also recounts Millie's debut, and highlights how Horslyx is helping amidst the incessant rain!
"So we had a busy end to the year! Detonator contested our first High Profile shows riding at PSG and Inter 1, our first one was at Vale View in Leics, he was very chilled out in all his tests considering it was a venue we had not competed at before. We gained good scores in both PSG's gaining two 5th places then in the Inter 1 which was only our 4 th ever one he won which I'm still in shock about and totally thrilled!!!"
"We then went to Bury Farm just before Xmas, there was no arena walk which would normally prove a bit of a problem at a new venue, so I didn't really know what to expect when we went in for our first test – but to my surprise he was brilliant and he did a lovely test with no mistakes, leaving us in 2nd place with a score of 68%. This means I can now apply to compete at an International next year which if we get picked will be a total dream come true for me, so I'm keeping everything crossed that we manage it."
"Sandonista still needed his freestyle qualifications for the winter regionals so we went to Richmond EC on Halloween to try and get them. He pulled a shoe off just before we set off but with this been my last chance to qualify him I still set off as he was sound. He was his usual sensible self, and barring an unusual buck into a simple change he did two great tests and we gained over 70% in both and winning giving us our qualifications."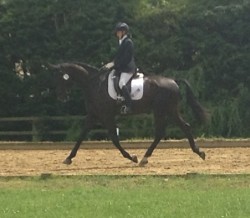 "So with regards to Winter regionals at the beginning of February both Detonator and Sando have 3 qualifications each, so we are now full steam ahead after a little Xmas break towards fine polishing our moves with plenty of training sessions and competitions booked in through Jan. My new mare Millie had her first unaffiliated outing and was lovely, she was a little spooky in the indoor for the first test but still came 5th. She was much more settled in the next one and came 2nd both being big classes. She will go out affiliated very soon."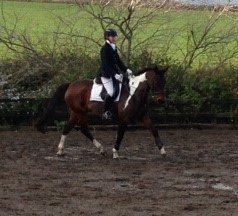 "I also had a non horsey outing thanks to Horslyx who invited me to the Newcastle Falcons V Saracens rugby match in Newcastle. I had a brilliant afternoon as it's been a few years since I'd been to see the Falcons play, getting to meet some of the players as well and wined and dined, it was just nice to get out of my breeches for once!!"
"The horses have been very thankful for their Horslyx over the last few days here as we have been suffering with flooding, it's not stopped raining for 5 days now and they are in their stables a lot longer than normal, so as usual there Horslyx are proving invaluable for boredom breaking!!!
The youngsters who are living out are loving theirs as well, they have ad lib haylage in a big feeder and then their licks, it is so much easier to get their vitamins and minerals this way rather than trying to give them buckets of feed that they all fight over."
"So I have to say thanks to the support of a Horslyx 2015 was a brilliant year with the horses, I gained my first regional title and successfully competed at my first High Profile and Premier leagues, with some great regional placings and a brilliant time at the Home International things could not have gone much better. 2016 has a lot to live up to but if all goes to plan it could get to compete at my highest level yet, I'm very excited about what is planned!"