Help is at hand with Horslyx, this quick and easy guide could help you and your horse this Bonfire Night.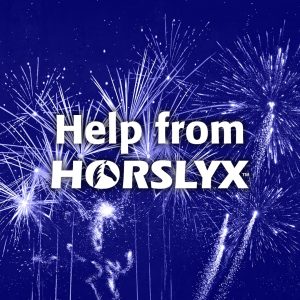 Find out whether commercial or organised displays will be near your horse's home and the event's timing.  The local press, shop notice boards, radio stations, and Facebook groups are good sources of information.
Ensure your horse stays on his regular routine as much as possible.  Keep your horse in the stable if he is usually stabled; likewise, if your horse is in the field, keep him in the field.  Wherever he will be, check the area is safe and secure.
The week before Bonfire Night, play music near your horse's stable, and leaving the stable light on can also help, as it can reduce the effect of sudden bright lights in the night sky.
Make sure you are with your horse during the scheduled times.  If you can't be there, ensure you have someone experienced checking on your horse during any displays.  Leave clear instructions for them and contact information for you and your vet should anything happen.
If you know your horse gets very stressed around fireworks, could you move your horse for the night or buy a calmer in advance?  If you are in doubt, speak to your vet first, as they may recommend that your horse be sedated.
A firm favourite with the Horslyx team is to have a Mini Horslyx to hand – they are a healthier alternative to treats and sweets and are fantastic at distracting your horse during times of stress.  Mini Horslyx are available from your local Horslyx stockists, with an RRP of £5.20.
Remain calm and be aware of your safety when your horse is stressed.