The Horslyx stable is delighted to welcome Maisie Greening as an Ambassador.  Maisie and her family have been using the products for some time with their horses and ponies, and clearly see the benefits of feeding Horslyx as a Balancer.  They find it so useful to be able to target each pony's needs individually due to the key ingredients in the specific Balancers. Maisie also finds the Mini Horslyx invaluable as a distraction and reward, especially useful for stretching exercises – so important for a competition pony! Find out more about Maisie and her ponies below.
My name is Maisie Greening. I am a 13-year-old event rider who is dedicated to my ponies and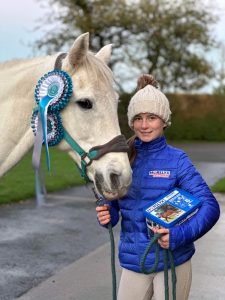 passionate about equestrian sport.
I feel very privileged to have two amazing 14.2hh ponies called Riley and Dawn.
I currently compete at BE100 and my goal is to move up to BE Novice next year, with the hope of eventually doing Pony Trials.
I was selected 2021/2022 to represent the North of England U18s 90 Event Team on both of my ponies. I was so proud to be part of this experience, to be amongst other riders who were as committed to the sport as I am, along with the support and help we all gave to each other, it was truly remarkable, I was very proud. I was the captain of the winning Championship team which was such an honour that I will never forget.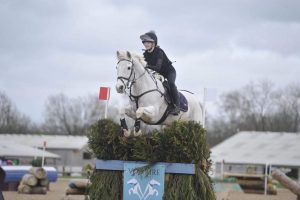 I am a member of Cumberland Farmers Hunt North Pony Club and enjoy taking part in all activities and camps. Both ponies qualified for Championships this year in various disciplines, which again was a great experience with some good results.
Both Riley and Dawn LOVE Horslyx! Riley's favourite is the Mint Balancer and Dawn's is the Respiratory Balancer and they have them all the time. I love knowing that Riley's and Dawn's diets are fully balanced in such a tasty and easy way.
We use Horslyx for daily stretches, which we do a lot of, and find them extremely useful as the ponies enjoy them so much. They are perfect for situations when we need them to be still and relaxed, like when putting in and taking out studs at competitions. We also use them when clipping and Riley can be rather nervous of the vet, so he gets his to distract him during those visits.
I am thrilled and thankful to be an ambassador for Horslyx and certain that both Riley and Dawn are too.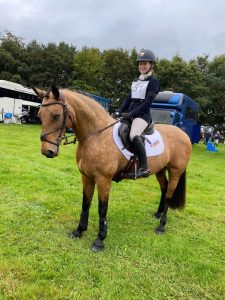 We're thrilled to welcome Maisie onboard, and we look forward to hearing more from her, Riley and Dawn.