To start with I'm so so pleased I'm being supported by Horslyx for 2017, the horses are even happier that they have a supply of their favourite balancer all year!!
I didn't have the best start to 2017 with 3 of my boys off with small injuries, fortunately all back in work now but with regionals coming up Iv not had the best preparation, but I'll just have to try my best.
For some Bishop Burton arena familiarisation Iv had a couple of trips there to compete.
I had Sandonista and Mario Lanza there first but after only being schooled for 2 weeks i was rather apprehensive about how they would behave. Sando was so good and gained over 73% in the novice then 72% in the music class, I really could not have asked for more with so little preparation!
Mario was a bit overwhelmed by his first time in the big scary arena and tension spoilt the tests a little but still gained 68% in his music class.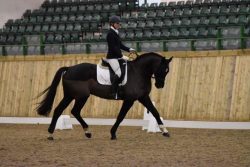 I then had a test riding session there the following Friday taking the same two giving Mario a good hour in there by which time he was much more relaxed.
We headed back on the Sunday, I know that road very well now!!!
It was Detonators first competition since France and again on only two weeks schooling and his past reputation in that arena I had planned on wearing a parachute just in case!!
After a bit of an explosive warm up, he was loving being out again, he just about managed to contain himself in the first test and got over 70%. The PSG freestyle was next and he was so much better again getting over 70%, I was thrilled with him. Keeping up the 70%'s Mario did one class a novice freestyle and got over 70%!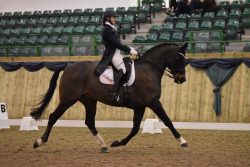 Iv just come back from training with Becky Moody and they went really well for where they are at the moment.
Next stop regionals on two days time, Iv never been so unprepared but hopefully the boys will be on side and I will just go and enjoy being there, anything else is a bonus!
Iv still not had the young one Olly out competing but he has been away for training with Becky and behaved impeccably so should get him to his first competition in the next few weeks.
Iv got lots planned for the year, Premier leagues with Detonator and if all goes to plan then another trip abroad for Great Britain. I would love to think we had done our first Inter 2 by the end of the year as well. The others will be aimed at regionals and hopefully advanced medium for Sando and Elementary for Mario by the end of the year.
Had a fantastic time at BETA with Horslyx as well getting to dress up to go to the ball, thank you!
If 2017 is half as good as the year I had competing last year I can't wait!!!