So here we are in 2017 and we are getting ready for the coming event season which will soon be upon us. Percy has returned to work having had a good 2 months off. I always find January a busy month because the horses are doing plenty of hacking to help with their fitness. This year has been slightly different because Frankie and Elfie have been kept in work during the winter months.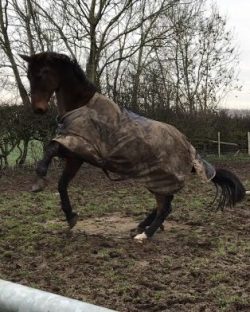 Our first outing of 2017 was to Reaseheath College for the dressage on 8th. I took Frankie, Elfie and my friends horse, Shannondale Rua, who is a 17.2hh coming 5 year old. All three of them were fabulous. I enjoyed myself so much that I decided prelim 12 should have an extra circle in it…twice!!! Sack the jockey. Bad enough to do it on the first horse, but the second as well!! To be fair I did work out the scores afterwards and it wouldn't have changed our placings…whew!!! So first up was the lovely Elfie. He hadn't been in this indoor before but was pretty sensible about it. Did some lovely work just need a bit more consistency and I need to pick him up a bit now. Overall very pleased with him for a 66.6%. Next up was Shannondale Rua, owed by Hayley Mayer. I've only ridden him 6 times before but I'm in love. Very happy with a 66.8%. So in a strong competitive class of 26 the two 4 years old were 6th and 7th. Then it was the turn of Frankie in the Novice 28. He hasn't been out to do a dressage test with his pals for 2 years because he has been known to be rather explosive with friends on board the wagon. It's ok until he has to leave them. The last time we attempted it he was an absolute fool and got thrashed by his sister by a whopping 14%. But I decided at nearly 18 he's got to get a grip!!! And to be fair apart from falling in love with a grey horse in the warm up he was impeccably behaved for 71.66% and 2nd. Such a good boy. Lovely comment off the judge "Lovely horse who just looked a little tight at times (excited?)" haha she should see him on an excited day, that was good!!
For our second outing of the years I headed to Ashwood Equestrian for the arena eventing with Frankie, Elfie, Percy (to look after Frankie) Mum, Betty and Dolly. The boys were both on top form and flew round a really fun track consisting of 6 show jumps and 15 cross country jumps. Both double clear and both with quick times. We had to go up and down steps, over hedges and skinnies they were so much fun to ride. Elfie was 4th in the 80cm having gone 8 seconds under the optimum time and then Frankie was 1st in the last class, winning a lovely rug.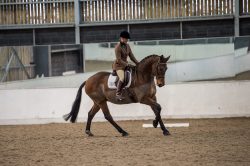 The girls, Arrow and Florence are both on a continuous holiday. Well Florence is on maternity leave and Arrow is just busy growing. Arrow turns 3 in March, so my aim with her this summer is to start with a bit of ground work like lunging and long reining, then I will slowly introduce the saddle and hope to be on board come Autumn. She is turning in to a real stunner and moves beautifully, she does just appear to have a bit about her mind, so I'm not expecting her to be quite as easy as Elfie has been. My aims for the boys are pretty simple. Elfie will begin his eventing career in the spring at BE90's and just see how he takes to it, all being well we would like to aim to move up to BE100's by the late summer. Percy is back in work and getting fit ready to start eventing in March, he may have an Open BE100 run before going back to Novice and in an ideal world I would like to have a go at an International 1* this season. And then there's Frankie, with him it's all about fun. We don't intend to take anything too seriously just have fun doing whatever it is we try. But my aim would be to hit the Working Hunter circuit again, which he enjoyed and was successful with in 2016.