Summer is flying by, and doesn't Bonnie Fishburn know it?! In addition to a busy yard and eventing calendar to run, she's also coming up fast on her own wedding in September. It's fair to say we were just as exhausted as she is, having caught up with her for the latest blog!
"Gosh it seems such a long time ago that I wrote a blog for you, but actually its only 8 weeks ago, it's just that we've done so much and have been proper busy little bees here at Bonnie Fishburn Eventing. Along with lots and lots of horsey outings there has been a Hen Do in Liverpool, a lovely wedding and lots of planning for our own wedding in September. All that mixed in with looking after 7 horses!"
"So I didn't have a great start to May, after a bit of an unexpected meeting with a rather solid road and some very painful ribs, but lots of painkillers kept me going as I had Broadway Horse Trials on the Saturday, only 3 days later where I took 3 horses for the BE100. I had planned to run Crosbie in the BE90 but the entries for that had closed so I entered him in the BE100 along with Percy and Florence in the Open BE100. I had hoped a space for Crosbie to move into the BE90 might become available but no such luck so we had to do the BE100 for his 4th ever event. But it couldn't have gone much better for a 30.5 and double clear for 8th place, then Percy had 32 and double clear for 3rd and Florence had 33 and double clear for 2nd. A pretty awesome day despite the broken ribs."
"The following week Crosbie did the BE100 at Llanymynech, looking back I shouldn't have run him so close to his previous event because he was a little tired. He did a nice enough dressage but the judge was a little harsh and we scored a 34.5, followed by 3 down showjumping, more bad luck then jumping badly because he actually jumped very well. Then I let him just cruise round the cross country but actually once the adrenalin kicked in he perked up and came home clear inside the time. I decided to give him a nice little break after this, he'd done a lot through the spring and I thought he had earnt himself a little holiday, so he had 8 days off."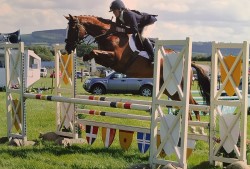 "Next was an outing for the new ginger boys, Louis and Ginger. I took them for some dressage at a local venue, Weaver Equestrian. Ginger had never left home since being broken apart from to come to me and it was his first ever competition and first time he had ever seen dressage boards. He was impeccably well behaved, a little nervous of the other horses working round him but with time he got better and better. His first test was Intro A and he behaved like a little pro gaining 77.3% for 1st and his second test was Prelim 7, where he scored 72.5% for 2nd, including picking up a 9 for both his entry and his halt. What a star. Louis on the other hand was rather spooked by something at the edge of the arena so in Prelim 7 he scored a 54.5% and then 61% when I took him back in HC."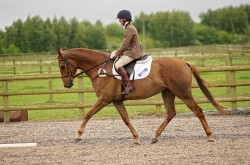 "Then the next outing was for the big man, Frankie. He went to Southview for a Combined Training, with Novice 27 and 1m jumping. He was a lovely boy and led from start to finish with a 69.6% dressage and clear sj. He was rather excited to be jumping but that's expected after nearly a year since jumping competitively.
The last weekend in May I took Percy and Florence to Brand Hall Horse Trials for the Novice. It was quite a testing xc track with lots of skinnies and the showjumping was the biggest they had jumped. Percy was a little fresh in the dressage for 37, followed by two down showjumping, just being a bit keen and then was strong as an ox cross country, but bold as brass and locked on to everything. We had 20 time penalties but I'd always planned to go steady but probably wasn't helped by him being so strong and me having to fight a bit to hold him up. Florence had a very good dressage of 31.3, to lie 3rd after dressage. Then jumped her little socks off showjumping and was just unlucky to have two fences down. Then cross country she jumped all the really technical fences and just had a naughty run out at the corner 3 fences from home. But overall I was pretty pleased with the pair of them because the track had caused several problems."
"The following day Florence went to the British Riding Clubs Festival of the Horse Championships, sponsored by Horslyx. She had qualified for the Combined Training Championships. It was lovely to compete there with Horslyx sponsoring the entire event and the Horslyx team kindly took me to the sponsor's tent for lunch, which was much appreciated after a 110mile trip down to the event. And to top the day off Florence had a good dressage of 31.1 and a clear showjumping to put us in 5th place."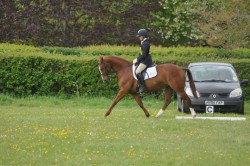 "Next stop was Berriewood Horse Trials and this time Crosbie was back to perform after his little break. And it appears it had done him the world of good. We were doing the BE100 and it was causing a fair amount of trouble for people. Crosbie did a nice test for 31.8 and followed it up with a fabulous double clear to finish on his dressage score, which pulled him up from 13th after dressage into 1st spot. A fantastic result for him in only his 3rd BE100 and 6th ever event. Delighted with his performance, he has come such a long way in the year that I've had him."
"Our next outing was a midweek evening dressage competition at Weaver Equestrian with Louis and Ginger. I had decided to put Louis in the Intro B first in case he got spooked in the arena again, but actually he was much better behaved this time and scored a 63.4%. Then in the Prelim 14 he did his best test yet scoring a 70.8% for 2nd place. Ginger did both the Prelim 14 and 18, scoring 66.2% and 67.9% for 5th and 3rd place. Clever boys!"
"The following weekend it was back to Berriewood, but this time with Frankie for the unaffiliated 100, just to see how things went before registering him with BE. As soon as he heard the loud speakers from the xc he got sooooo excited, but he did calm down enough for his dressage and scored 28.3, followed by a lovely double clear, despite being ridiculously excited in both warm ups. This was good enough for 1st place. It was fantastic to have him back out eventing and I can't wait to take him for his first BE event for over a year next month."
"Our final event in June was the British Riding Clubs Area 20 Horse Trials Qualifiers with Percy and Florence. Percy was in the 100 and had actually chilled out a bit from our last event, he did a lovely, calm, relaxed dressage test for 29.5 and jumped clear sj and gave me a fabulous ride across country for a clear, but unfortunately we picked up 2.4 time penalties for going to fast, which actually cost us 1st place and we were 3rd and his team 5th. Florence was actually a little excited in her dressage, which is a bit unlike her, but she scored 32 which was actually lying 2nd, then she jumped a lovely sj round but had quite possibly the most unlucky fence down ever, I didn't know we'd touched it until I saw a guy putting it back up. She went on to jump a wonderful clear in the time across country to finish up in 3rd place and her team 2nd."
"Other than all the competitions I have done in the last 8 weeks, we've had a few little outings to Weaver Equestrian for clear round sj and Somerford Park Farm for the farm ride with Louis and Ginger, just playing with them and teaching them the ropes with sj and xc. They are being very good boys and I'm starting to get excited about what competitions we will be doing through the summer!"