March was quite a busy month for us in the lead up to our first event of the season. As well as competitive outings we also had some training outings, where I hired showjumping courses and also went off on farm rides for a bit of cross country practise. I have also been doing more ground work with Arrow my 3 year old filly, so she is lunging happily with a saddle on, long reining and also I have lent over her and sat up on her. So far she has been a really good girl.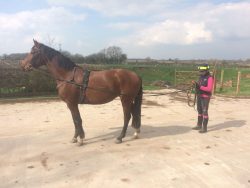 My first competitive outing of March was on the 11th and it's official my 18 year old horse is a nightmare and way to excited about life!!! Surely one day he will grow up. I took him to the Equine Rising Stars show at Alsager and to say it was a rather exciting outing would be an understatement. I rode him in the Restricted and Open Veteran Classes. He showed some really beautiful moments but also some rather explosive moments. I don't think he quite understands the meaning of Veterans!!!! How can trotting in circles with other horses be so exciting? So my question to you showing pros out there is how do you desensitise horses to the show ring? We can warm up with others easy enough but once in the ring it just becomes exciting. He just thinks its one long prize giving which is absolutely his favourite thing!!!! We didn't totally disgrace ourselves with a 4th in the restricted and 3rd in the open. But he could do better. The restricted judge said he has to take into account manners but if I can sort that he would be at the top of the line all the time because he did a great show and is in a super condition for his age. It is the first show of the season and I'd hope he would get better behaved next time out.
On 13th of March we had another super day out at S and G Equine Ltd. I took Elfie and Rua for the second of their Dressage League Shows. Elfie was first up in Prelim 12 and apart from an over shot centre line into our final halt he didn't do a great deal wrong and he's getting stronger every week over his back, which is allowing him to take more weight behind and carry himself. He scored a fabulous 78.3% with almost straight 8's bar 4 of the marks. This was good enough to take 1st spot. Next up was Rua who also gave me a fantastic ride in the Prelim 12 for 77.22% to take 2nd. I also rode him in Novice 28. And he just gets better and better, he has such a lovely relaxed and consistent way of going. We scored 77.91% good enough to take 1st place. So overall a super day in beautiful sunshine with great company at a superbly well run venue with great cakes!!!
On 19th March we had our first event of the 2017 season and what a fabulous start it was. We headed to Stafford Horse Trials for the Open BE100. Percy was pretty excited to be out but kept his excitement contained when it mattered. He started the day with a 31.5 in the dressage to lie in 8th place. He then jumped a super confident showjumping round in quite tricky conditions after the testing weather that the Stafford team had to deal with for the three days of the event. Then out on to the cross country and he ate it up, giving me a super easy ride. His speed always amazes me and half way round we were well up in time which meant we could cruise home steadily and were still 9 seconds under the optimum time. What an absolute gent this boy is. And to top it off he took 3rd spot out of 35 competitors. Completely delighted with him.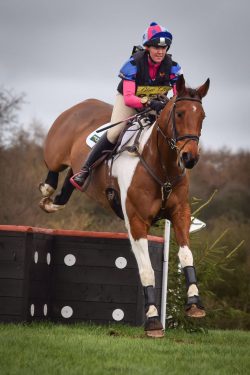 On 25th March we had a a 4am alarm call to head off eventing but what a fabulous day to go, the sun was beautiful all day. We headed south to the beautiful estate of Offchurchbury for a superbly well run Lands Eventing ODE. It was Elfie's first proper event and his attitude was fantastic all day long. He did a lovely flowing test for a 28.8, leaving him lying in 5th place out of 31, which for his 3rd ever test on grass was super. He then jumped a real confident showjumping round and was clear. Cross country he was putting in a speedy confident round up until the water where he just spent a bit too long having a look before getting his toes wet to pick up 20 penalties. But the skinny, corner, drops and sunken road weren't a problem. Overall I'm hugely proud of him. Just annoying that our little blip cost us 3rd place and dropped us to 16th. But still for his first proper event I'm delighted with him.
So on to April we go and as long as the weather plays nicely it should be a busy month of competitions.