My first outing in February was a long but fabulous day. It started at 4.45am this morning for a trip to Kelsall Hill Equestrian Centre for a dressage competition. I was riding Hayley Mayers lovely big Shannondale baby whilst she worked down in New Market. It was only our second competition together and in a seriously hot class of 35 competitors he scored a very respectable 30.8 (69.2%) to finish in 3rd position!!! Afterwards we went for a schooling session round the cross country. My day didn't finish there, as my 3 boys all needed schooling when I got home but 4 good boys in total make for a very happy and smiley Bonnie that evening, made even better by having the sun shine on us all day long.
A couple of days later I had another  wonderful day at Kelsall Hill Equestrian Centre for the Arena Eventing. I headed up there early to give Percy a spin up the gallops, which he thought was fantastic fun, even the bit where you trek back to the bottom. He was like a bouncy bean!!! I then rode Elfie in the 90cm class, where he had a super double clear, all be it with a little dramatic jump at the last where he only realised at the last second it was a double!! He was about 3 seconds under the optimum to put him in 14th out of a huge field of 59. Next up was Frankie in the 100cm class. To say he was excited is an understatement!! He is just so happy to be able to do what he loves. He's tricky to hold but I love him and he loves his job. He flew round double clear and 0.1 seconds under the optimum to take 1st place out of 30. I was delighted with all 3 of my boys and it was another lovely sunny day. A such a super day finished off by dancing the night away until 3am in the morning at the Wynnstay Hunt Ball.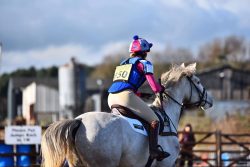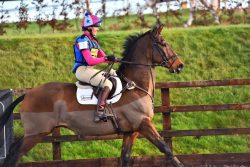 On 13th I headed to S and G Equine Ltd Weaver Equestrian with the baby boys for their dressage league. The weather was bright but with very gusty wind. First up was Elfie in Prelim 14, a nice flowing test with just a few little spooks at windy objects for 72.3% for 3rd place. Next was the turn of Shannondale Rua also in Prelim 14. A little distracted in the wind but floated along for 73.46% and 2nd place. Finally Rua had to put his big boy pants on and attempt his first ever novice in Novice 30. He was fabulous. Really rose to the occasion and tried his hardest in quite a stiff test that asked lots of questions for 70.19% and 1st place. Delighted with the pair of them and as ever a great friendly atmosphere at S&G Equine and fabulous cake .
On 22nd we had a big yard outing to Tushingham Arena for their eventer dressage show. I had crazily decided to enter 4 different horses in 4 different classes. But it actually all went very well and I managed not to forget any of my tests. First up was Elfie in Prelim 7, altough he was a little toad in the warm up having decided that a showjump wing that had blown over in the wind was like the scariest thing ever, but he actually really pulled himself together for the test and performed a very relaxed and fluent test, scoring a 73.4% to take 1st place in the largest of all the classes. Shannondale Rua was next in the BE97, he was very relaxed and cooperative and did a very accurate test for 68.7% and 4th place. Frankie did BE106 and let's just say I think he was feeling the fresh air with his winter coat missing, so freshly clipped, friends on board and a little bit of miserable weather perhaps weren't the greatest of all concoctions for him. We had a rather excitable test for 65.2% and 5th. His good bits were lovely, it was just explosive bits which weren't so great!! Then it was Percy's turn. It was his first time in the white boards for 4 months and he was an absolute pleasure in BE110. He did everything where he was supposed to and gave me as much as I asked for scoring a 71.2% for 3rd place. So generally a good day all round and mostly good ponies.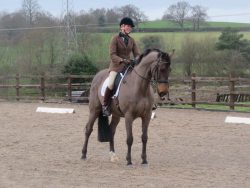 So we've had a fairly busy February with also doing some canter work with the horses and bits of XC schooling all in preparation for our event season to start in March.