So we are at the end of March now and the weather had started to look a little more hopeful for getting our season under way but that was a false alarm and it is still causing cancellations all over the place.
I have managed to get out to a few things. Arrow went to her 2nd dressage competition on 12th March, I was chuffed to bits with her. She was a little wound up in the warm up because she took a little bit of a disliking to a big black horse and it made her pull some fabulous Valegro trot out of the bag, which felt amazing but at the same time a little scary as her tail was up over her back and I wouldn't say I was 100% in control. But when she went inside the white boards she was super. In the Intro B she had a 70% for 3rd and then a 71.73% in the Prelim 14 for 1st. Delighted with her. Let's hope we can work towards the amazing Valegro trot but on command someday. I also took Arrow to a new venue Burlton Manor to use their showjumping course, which was her first time jumping away from home. She was green but also showed plenty of talent and behaved pretty well.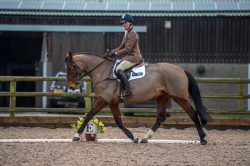 Next we had an outing to Reaseheath Equestrian Centre in the sunshine on 25th March. I managed to ride 3 in the combined training with abit of help from mum and friends. Elfie was first up in BE 102 with 90cm jumping, he was beautiful in his dressage apart from one big spook dropping to a 4 at some silly jump wings, so he scored 35 and then had a fantastic jumping round, albeit with 4 faults which I completely blame myself for because I got excited. But other then that is was a lovely forward round, pinging out of his stride. Florence was next up in the same class. She really did do a beautiful dressage test for 29.5, which was totally deserved. She then followed it up with an easy clear to take 2nd place. And finally it was Percy in the Novice 27 with 1m jumping. He really listened to me in the dressage and was foot prefect, even though he was on the verge of excited. He then took me round the showjumping and I had very little say in what we did, he was just loving it and taking charge of the situation. He found it hilarious that he was making me squeak but I will let him off as he was clear to take 1st place by a healthy 3 marks!!! A really enjoyable day.
I'm just hoping now that Spring is going to arrive and the rain is going to clear off so we can finally try and get to some events.