We have been delighted to support Tim Reed Racing who has been using Horslyx Pro Digest Balancer for the last two years.  Tim finds the horses are happy in the stable and look great on the product and is delighted with how Pro Digest supports their gut.  He always takes a tub with him when they stay away overnight and finds it helps the horses settle well into their strange surroundings.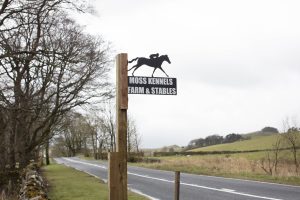 Moss Kennels lies in the shadow of Hadrian's Wall, Northumberland, a farm where training racehorses is a family passion.  Whether breeding, training or riding Thoroughbreds, several generations of the Reed family have horses in their blood and Tim Reed is no different.  A career that started in the 70s with his first ride in a point to point at Bogside in Ayrshire on King Bee, Tim, married to Emma, now trains several National Hunt horses at home, with son Harry the race jockey for many of them.
The Reed family moved to Moss Kennels in 1963 with Tim's father breeding and training point to pointers at that time. Tim rode in his first point to point in 1978 at sixteen years of age and the family tradition continued.  Turning amateur in 1983, Tim won the Amateur Jockey's Championship in the mid-80s and he turned professional shortly after, finally hanging up his boots in 2001 with a winner.  In all Tim partnered over 400 winners over the jumps and rode a winner in four decades!
As well as training, Tim has previously worked as a jockey coach at the Northern Racing College, based in Doncaster, and has now worked as a Level 3 Jockey Coach for the BHA for the last three years.
It's no surprise that with this wealth of knowledge, Harry, Tim and Emma's son is a successful professional jockey.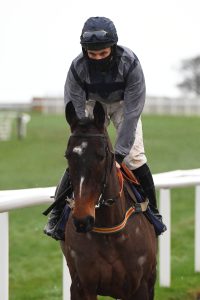 Harry originally started in Pony Racing, was bitten by the bug and has moved up through the ranks carrying on the Reed Family association with National Hunt Racing for another generation.
Tim has had ten horses in training for the last season, ranging from youngsters starting out in their career to reliable seasoned campaigners.  The location of Moss Kennels and the variation of training options, from the all weather gallops, the old turf alongside Hadrian's Wall and an indoor arena along with the relaxed happy atmosphere, means that Tim is well known for turning horses around that have lost their way a little.
Tim fits training around the farm and finds the National Hunt Season fits in well with this other side of Moss Kennels. Over the quieter racing summer period, Tim buys ewe lambs in and finishes them as gimmers in addition to producing hay. As a past Young Farmer, he is often found through the winter treading the boards in the 27 Up Pantomime raising funds for charity!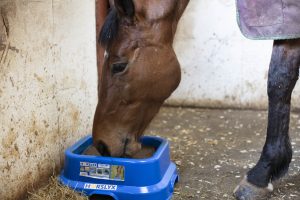 Tim Reed Racing has now been feeding Horslyx Pro Digest Balancer to all horses for two years now and has found it beneficial to every single one.  Initially, Tim started feeding it after a virus and found recovery to be quick.  Since then, he has noted that the boredom breaker aspect has been particularly advantageous to the racehorse, however, in addition all horses have looked really well on the product which offers optimum gut support, essential for every equine, but particularly a racehorse.
We were lucky enough to spend the day with Tim earlier this year at his yard, Moss Kennels, on the side of Hadrian's Wall. A stunning location with beautiful horses, and the video below shows you a little bit of a day in the life at Tim Reed Racing.