We are thrilled to announce a new Ambassador to Team Horslyx Para-Dressage rider Rowan Crosby.
We caught up with Rowan who told us a little about herself and her aims for the season.
"Hi I am Rowan Crosby a 15 year old Para Dressage rider from Wales. I compete at Grade 2, which is the classification for my level of disability. Para dressage is grouped according to severity of disability to make the system as fair as possible, so Grade 1 is the most disabled up to Grade 5 which is the least. At Grade 2 I am allowed to walk and trot only."
"My horse is called Kilimazing Tiger Lily or Tiger for short and she is a 7 year old Class 1 14hh Connemara."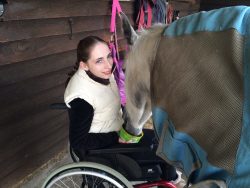 "I have been competing now at National level since 2014 but only with Tiger for 18 months. I have represented Wales three times in the Home International, competed for Great Britain at the CPEDI and in March Tiger and I won the Grade 2 British Dressage National Championship. My goal is to represent Great Britain at the 2024 Paralympics."
"At the moment I am currently looking for a new horse because Tiger is only 14hh and I need a horse that is minimum 14'2 to apply for World Class Programme. It takes quite a bit of time to train up a new horse because they have to get used to all the tack and training adaptions.
"With Tiger, I am hoping to qualify again for the CPEDI. I have to get the scores for that by the beginning of May, I think, so Tiger and I will be out competing to try to qualify for selection."
"I am really pleased to be working with the team at Horslyx, as I know my horse Tiger is as well! I have been using the products for a while and find my horses both enjoy them and feel the benefits of them. I can't wait to keep everyone up to date on my news this year."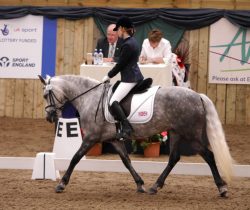 Photo credit Amanda Shirtcliffe