With the sun shining (most of the time), the temperature increasing and evenings getting longer, we can really start to get excited about show season! Days out at competitions are what a lot of riders live for, and while it is super fun for us, it can often wreak havoc with our horse's digestion.
Horses are trickle feeders, which means they are designed to eat small amounts of fibre on a little and often basis. When their regular routine is disrupted, for example on a day out at a show, they often receive inadequate quantities of fibre, which can hinder the sensitive digestive process. Teamed with competitive pressures, travelling and potentially nerve-wracking situations, this can lead to tummy troubles.
There are, however, some simple steps you can implement to help reduce the risk of upsetting the balance on exciting days out…
1. Take a good supply of forage. It may sound obvious but taking plenty of your horse's normal hay or haylage will mean he still maintains a regular passage of food despite being out of his routine. So, whenever you are not riding or getting ready to ride you can offer this trickle feed supply of fibre whether it is during transit, while standing in the lorry, or after your class. Not only will this keep his stomach happy, but also it can distract him from any potential stress factors!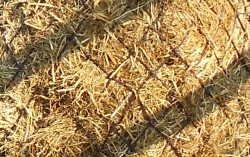 2. Feeding buckets of hard feed is not usually convenient when you are at a show, however taking a Horslyx with you in the lorry is the perfect way to ensure your horse receives the vitamins, minerals and trace elements he requires to maintain health and performance, while also keeping him occupied. Try a Mini Horslyx for an easy and portable hand held reward, distraction or bribe! You can even help ease any post-competition tension by using it to perform stretching exercises!
3. Don't forget water. It is the most vital nutrient in your horse's diet and often gets overlooked on a day out. Some horses can become fussy when away from home so take your own water in order that it is familiar in taste. Other ways to add extra H20 is by soaking your hay or dampening feed. You may also find it beneficial to provide electrolytes to replenish lost salts, particularly on a hot day.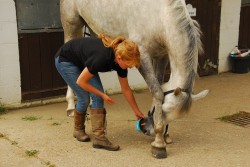 4. If the opportunity arises, try and take your horse for some in-hand grazing, especially if he is used to having time out at grass on a daily basis. Ensure you have checked with the show organiser first to ensure that it is safe to do so and check the surrounding area for holes and contaminants beforehand.
5. Allow your horse to recover after intense exercise before feeding and travelling. Don't provide food straight after finishing a tough cross-country course. Walk your horse until he stops puffing and allow him to cool down before giving him access to food. Equally, allow him time to recover before travelling.
Happy Show Season everyone!