Banana is the ultimate summer flavour, and Horslyx have launched their latest Limited Edition in time for days spe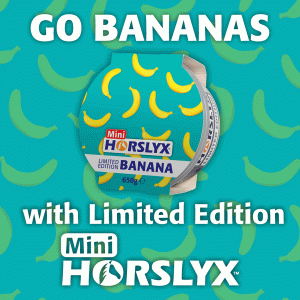 nt in the sunshine with your horse or pony. The pleasing aroma of banana will have you and your horse thinking you've been transported to sunnier climes, no matter what the British weather brings!
Providing the ultimate reward in combination with a flavour sensation, Limited Edition Banana Mini Horslyx contains the high specification vitamin, mineral and trace element package found in all Horslyx products in combination with a tasty banana flavouring. Suitable for all horses, ponies and donkeys, Mini Horslyx isn't just a treat, it's fabulous for performing stretches, distracting in stressful situations and perfect for a bit of bribery to aid standing still. Just remember, it's not for monkeys! 😉
The Limited Edition Banana Mini Horslyx comes in a 650g silver tub with a turquoise sleeve which provides all the details of the product, with an RRP of just £5.20.
It's first come, first served for Limited Edition Banana Mini Horslyx, so be quick and pick up your Banana Mini Horslyx at your local equestrian retailer now!
The Limited Edition Banana Mini Horslyx is only available on Mainland UK whilst stocks last.