So May was a busy month with the horses and on a personal note, I turned 40 on the 2nd May which I had been dreading but it was an excuse for quite a lot of partying including a trip to London and a party which was mainly to thank everyone who help financially get me out to France to compete for GB last October, I can't thank everyone enough!!!
In-between the birthday celebrations it was full steam ahead to get the last regional qualifications mainly for Mario but I decided to try and get Medium qualification as well as Elementary.
So a trip to Snainton with them both was supposed to gain Mario's points but unfortunately his clingyness to Sando reached a new level and he was very inattentive making lots of mistakes resulting in poor scores for him and no more regional points. It's a nightmare when they get like this so there was nothing else for it I would have to take him on his own!!
Sando was very good and did his hardest test to date the Medium 75, although still green at this level he tried hard and gained most of his regional points with just 4 left to get.
So Mario went out a couple of weeks later on his own and what a difference I had my horse back!! Although he still whinnied a bit it did not effect the test and he got over 72% in the first test and with a big spook in the qualifier he still got 69% and finished his qualification thank goodness!!
Detonator has had a busy few months and during May he went to Addington premier league, we had had an interesting few days before we went as I'm really having to get the connection sorted out to enable us to move up the levels eventually. Considering what he was doing in the warm up, waving at everyone with his front legs!!! He pulled off some good tests which I was pleased with, finishing not far out of the top 10 in huge classes.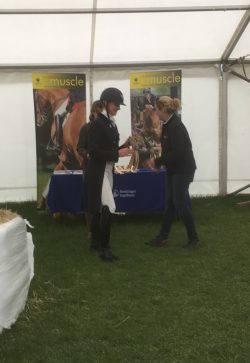 When we got back I decided to just take him for a check up at the vets and his teeth to be done. He trotted up fantastically and seems fully recovered from his small injury earlier in the year but his teeth were not very good. He has got some gaps that had filled with food and were causing pain. I'm hoping if we can keep on top of this he will be more comfortable.
Somerford was our next PL and one of my favourites, the weather was not so kind and very stormy with thunder storms inbetween my tests fortunately but it still made for an electric atmosphere which Detonator found incredible exciting and for the first time ever blew up in the walk in his first test after the horse next door got a round of applause. Not our best moment ever but fortunately  he came out much better for the PSG resulting in a very respectable 7th place behind the winner Charlotte Dujardin. It's not every day I get in a prize giving with her so I was very star struck!!!
I got the fantastic news that we have been selected for GB agin this time at Pompadour France at the end of June. This is a lot further down than our last one out there so more travelling which I hope he copes with. It's just amazing we get the chance to compete abroad again, I'm incredibly excited and just hope he is on form.
The weather has been lovely but this means the flys are now out, which means the garlic Horslyx are now out as well and they love them!!
I ran out of Mobility licks for a few weeks and I can really tell with my old event horse Primitive Touch who struggles with arthritis he became very pottery, he is now back on it and is improving again thank goodness!!