We caught up with Bonnie Fishburn, and as always our busy Ambassador doesn't disappoint… Not content with a quiet winter, Bonnie has bagged herself a couple of big projects to work on!
"So last time I wrote to you Percy had just gone on holiday and Florence was about to have a little play at affiliated dressage. And now 6 weeks on Florence has earnt herself a holiday. She had three outing under British Dressage rules. Took part in 6 classes and gained herself four 2nd's and two 1st's."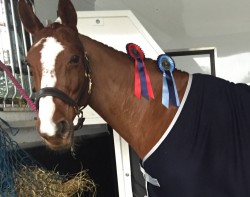 "Not only that, but she has earnt herself enough points to qualify for the BD Winter Regionals at Open Novice level. Not bad in two weeks and 3 outings. She scored some fantastic percentages, her worst being 66.9% and her best was a whopping 76.9%. Delighted with her performances. So she has joined the boys on their holidays now."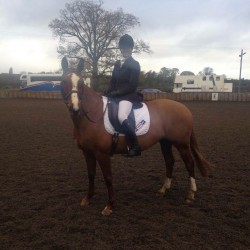 "There have also been a couple of new arrivals here at Bonnie Fishburn Eventing. I decided that I would really like a project horse over the winter and went in search of a new horse. I travelled up and down the country looking for a broken 4 year old, that was sensible enough for me to take on and would be ok for me to do on my own, as I'm mostly home by myself when I ride."
"After a month of searching I didn't find anything that I liked, that was in budget. But then two weeks ago I came across Elfie. An unbroken, yet well handled 3 year old. So not really what I was after but his attitude seemed so genuine that I decided to give him ago. He has now been with me two weeks and today I rode him up and down my stable yard on my own with reins on his bit for the first time, having long reined him first. He has taken to work beautifully. Let's hope he keeps it up. He is a 15.3hh grey roan warmblood gelding, with 4 lovely big socks and a blaze. But he is very light in colour so I think will go white quite quickly. He was quite a late baby (August) so I think should have quite a bit of growing to do."
"My new arrival's don't end there!! I also ended up coming home with a yearling, so completely not what I was after but I couldn't resist her. She is a beautiful bay filly that turns 2 in February. She has been kept with Elfie all her life and neither of them had ever left home before coming to me. She is by the lovely stallion Carousel and she moves beautifully. So although I have a long wait before I can do anything with her, she's quite an exciting future prospect. She has a lovely temperament. I hope to maybe get her out to a few in hand shows next season. Exciting times!"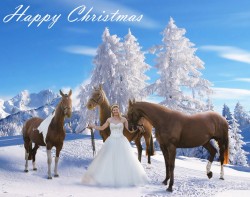 Merry Christmas everybody!