Horslyx are delighted to welcome Amy Woodhead to their Stable of Ambassadors. Amy is well known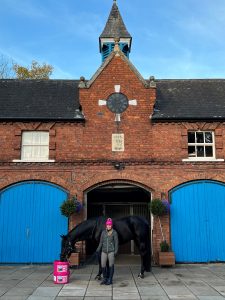 as a dressage rider, producer and coach and is based in Grimsby, Lincolnshire.
Amy comes from an equestrian background which, along with her can do attitude and a fabulous talent, has resulted in a hugely successful career to date in the world of dressage.
From the age of 13, Amy was part of the Pony European team competing in Switzerland, Belgium and Holland for Great Britain.
With a desire to gain more experience, Amy worked in Germany under the German Pony Team trainer, Connie Andres as well as working on a sales yard at Holland.
Her hard work paid off aged 20 when she was picked to ride as part of the British Young Riders team in France aboard the stallion Pardon.
Winning the Young Rider tour in Vidaban, Amy was spotted by Carl Hester and was approached to work and ride for him at his base in Gloucester. Amy remained at Carl's yard for four years where she gained invaluable experience from his skilful eye, and also had the opportunities to ride in his demonstrations and masterclasses. She still regularly trains with Carl.
After several happy years, Amy returned home to take over the running of her family equestrian yard where she remains based with a high calibre of clientele and a strong string of competition horses at various levels of their career.
Amy has several successful relationships with owners, noting Emma Blundell of Mount St John Stud, as well as having produced U-Genius, the talented progeny of Uthopia, through the ranks who is owned by Claire Hester.
Amy loves Horslyx and has supplied her horses with is for some time, before becoming part of the Horslyx Team.   She knows the licks keeps them looking well and entertained in the stable and are great for tempting the fussier eaters. Being available 24/7, Horslyx also satisfies that trickle feeding requirement that all equines have, meaning that they have their balancer available as and when they need it. As Amy says "All I want is for my horses to be well and happy, and I believe Horslyx does this".
Welcome to the stable Amy and Team! Wishing you much success in the coming year from All at Horslyx.