Czy kiedykolwiek zastanawiałeś się nad tym, w jaki sposób wytwarzane są produkty Horslyx Balancer?
To właśnie unikalny proces produkcyjny Horslyx pozwala na stworzenie produktu tak wysokiej jakości. Proces ten obejmuje długotrwałe wyprowadzanie wilgoci z wyrobu, dzięki czemu powstaje naturalnie ukształtowany, twardy produkt o niskiej wilgotności.
Lizawki Horslyx zawierają duże ilości białka, mikroelementów, witamin i minerałów, przy czym wymagane spożycie jest często ponad połowę mniejsze od innych lizawek dostępnych na rynku, dzięki czemu opłacalność produktu mocno wzrasta. Horslyx to jedyna firma w Europie, która produkuje lizawki w oparciu o ten unikalny proces.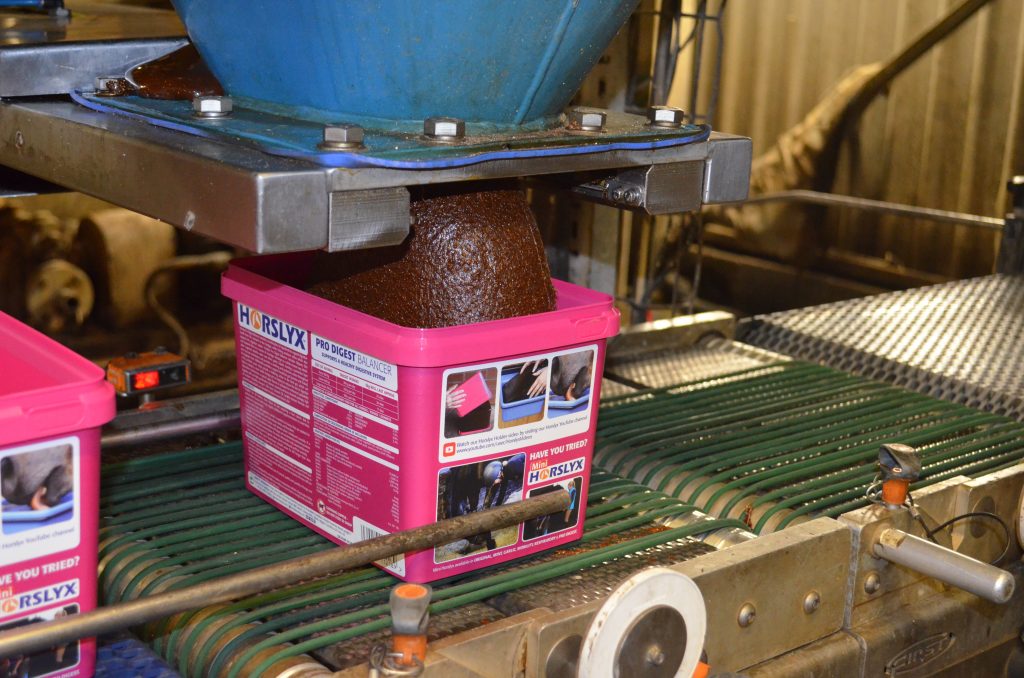 Korzyści wynikające z naszego unikalnego procesu wyprowadzania wilgoci…
Brak chemicznych utwardzaczy, brak niepotrzebnych wypełniaczy lub spoiw, brak sztucznych barwników, konserwantów i aromatów!
Bardzo niska zawartość wilgoci (kupujesz produkt, nie wodę) – niektóre chemicznie utwardzane lizawki mogą zawierać ponad 20% wody! Horslyx zawiera jej mniej niż 5%, kupujesz więc produkt, a nie wodę!
Odporność na warunki atmosferyczne – wszystkie produkty mogą być stosowane na zewnątrz; nie rozpuszczają się ani nie rozpadają w deszczu, nie topią się w cieple.
Lizawka mięknie pod wpływem ciepłoty ciała konia, dzięki czemu Horslyx szybko rozkłada się w jelitach i jest łatwo trawiony, w ten sposób chroniąc zwierzę przed możliwością blokowania przewodu pokarmowego przez niestrawione resztki i powstawaniem kolek.
Jest to produkt skoncentrowany, co oznacza, że już niewielkie spożycie równoważy dietę Twojego konia, dostarczając mu wszystkich witamin, minerałów i pierwiastków śladowych, których potrzebuje. Oznacza to, że przy zapewnieniu docelowego spożycia Horslyx jest niezwykle opłacalnym produktem.