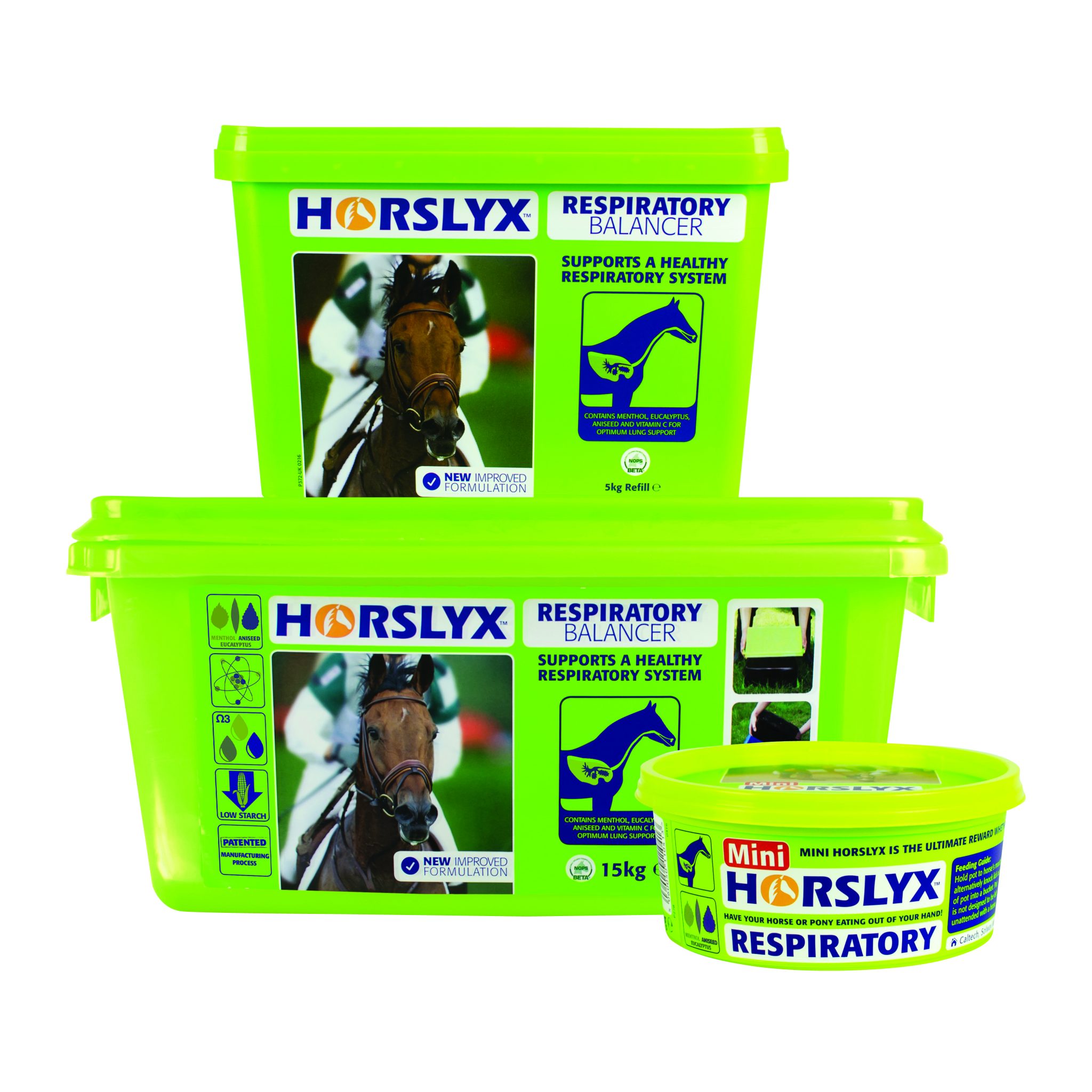 Respiratory Horslyx – Ondersteunt een gezond ademhalingssysteem!
Respiratory Horslyx ondersteunt een gezond ademhalingssysteem, zorgt dat de voeding uitgewogen is en bevordert een natuurlijk, gestaag eetpatroon!
Respiratory Horslyx bevat…
Menthol, eucalyptus en anijs voor de ondersteuning van een gezond ademhalingssysteem.
Het speciale Horslyx pakket met vitamines, mineralen en sporenelementen.
Krachtig antioxidant, vitamine E en seleen voor een gezond afweersysteem.
Gechelateerd koper en zink voor een betere opname van mineralen.
Biotine, zink en methionine voor gezonde benen.
Hoog gehalte aan olie voor gezonde huid en vacht.
Menthol, eucalyptus en anijs helpen om de luchtwegen vrij van slijm te houden, wat het paard helpt om makkelijker adem te halen en stress drastisch reduceert.
Vitamine C, vitamine E en seleen zijn krachtige antioxidanten die helpen om een sterk, gezond afweersysteem te ondersteunen zodat het paard zijn natuurlijke gezonde longfunctie kan behouden. Het speciale Horslyx pakket met vitamines, mineralen en sporenelementen bevat tevens een hoog gehalte aan gechelateerd koper en zink.
VERKRIJGBAAR IN
[wbcr_php_snippet id="9893″]
Waarom kiezen voor Respiratory Horslyx?
Om een gezond ademhalingssysteem te ondersteunen en verzorgen.
Ondersteunt het ademhalingssysteem van paarden die specifiek voor competitie worden gehouden of regelmatig met grote inzet of snel moeten werken.
Ontwikkeld om tekorten in voeder en bij vrij grazende paarden te compenseren.
Helpt verveling en stress te beperken.
Weerbestendig – voor gebruik in de stal of het weiland.
Smakelijke kant en klare (lick waarbij geen mengen of toebereiden nodig is).