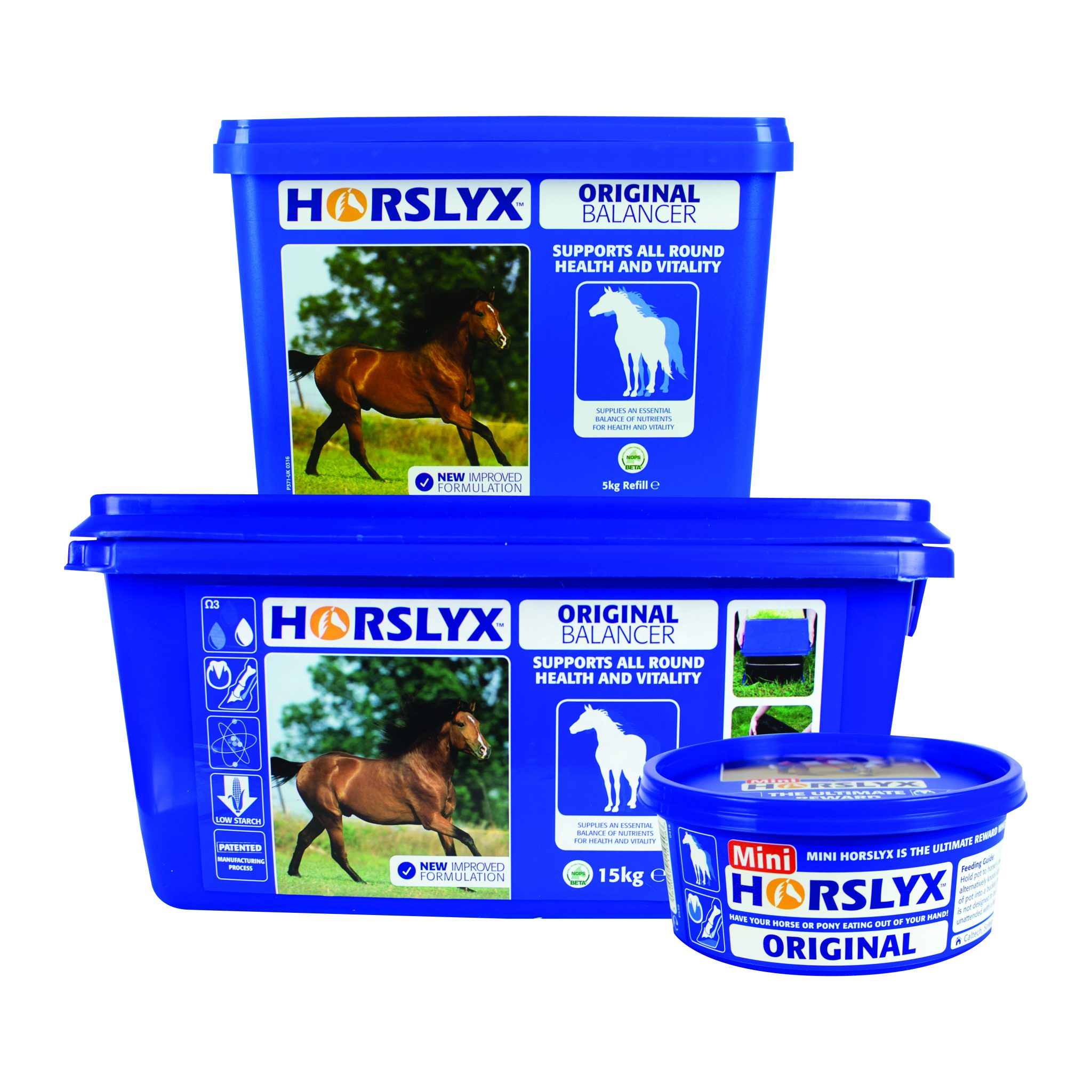 Original Horslyx – Ondersteunt de algehele gezondheid en levenslust
Original Horslyx was het allereerste Horslyx product dat gelanceerd werd in 1997 en ondersteunt de algehele gezondheid en vitaliteit, zorgt dat de voeding uitgewogen is en bevordert een natuurlijk, gestaag eetpatroon.
Original Horslyx bevat…
Het speciale Horslyx pakket met vitamines, mineralen en sporenelementen.
Krachtig antioxidant, vitamine E en seleen voor een gezond afweersysteem.
Gechelateerd koper en zink voor een betere opname van mineralen.
Biotine, zink en methionine voor gezonde benen.
FHoog gehalte aan olie voor gezonde huid en vacht.
Het speciale Horslyx pakket met vitamines, mineralen en sporenelementen is ontwikkeld ter compensatie van tekortkomingen in de voedingsopname die vaak ontstaan bij voederen en grazen.  Voor de meeste paarden is een eetpatroon met Horslyx en voeder alles wat nodig is.  De meeste paarden krijgen de noodzakelijke energietoevoer en voedingsmiddelen als hun voeder gewoon uit een combinatie van Horslyx met voeder bestaat (gras, hooi of kuilvoer). Voor paarden die meer energie nodig hebben, kan Horslyx gecombineerd worden met graanproducten en calorierijk, vezelhoudend voeder.
VERKRIJGBAAR IN
[wbcr_php_snippet id="9893″]
Waarom kiezen voor Original Horslyx?
Ontwikkeld om tekorten in voeder en bij vrij grazende paarden te compenseren.
Helpt verveling en stress te beperken.
Weerbestendig – voor gebruik in de stal of het weiland.
Smakelijke kant en klare (lick waarbij geen mengen of toebereiden nodig is).