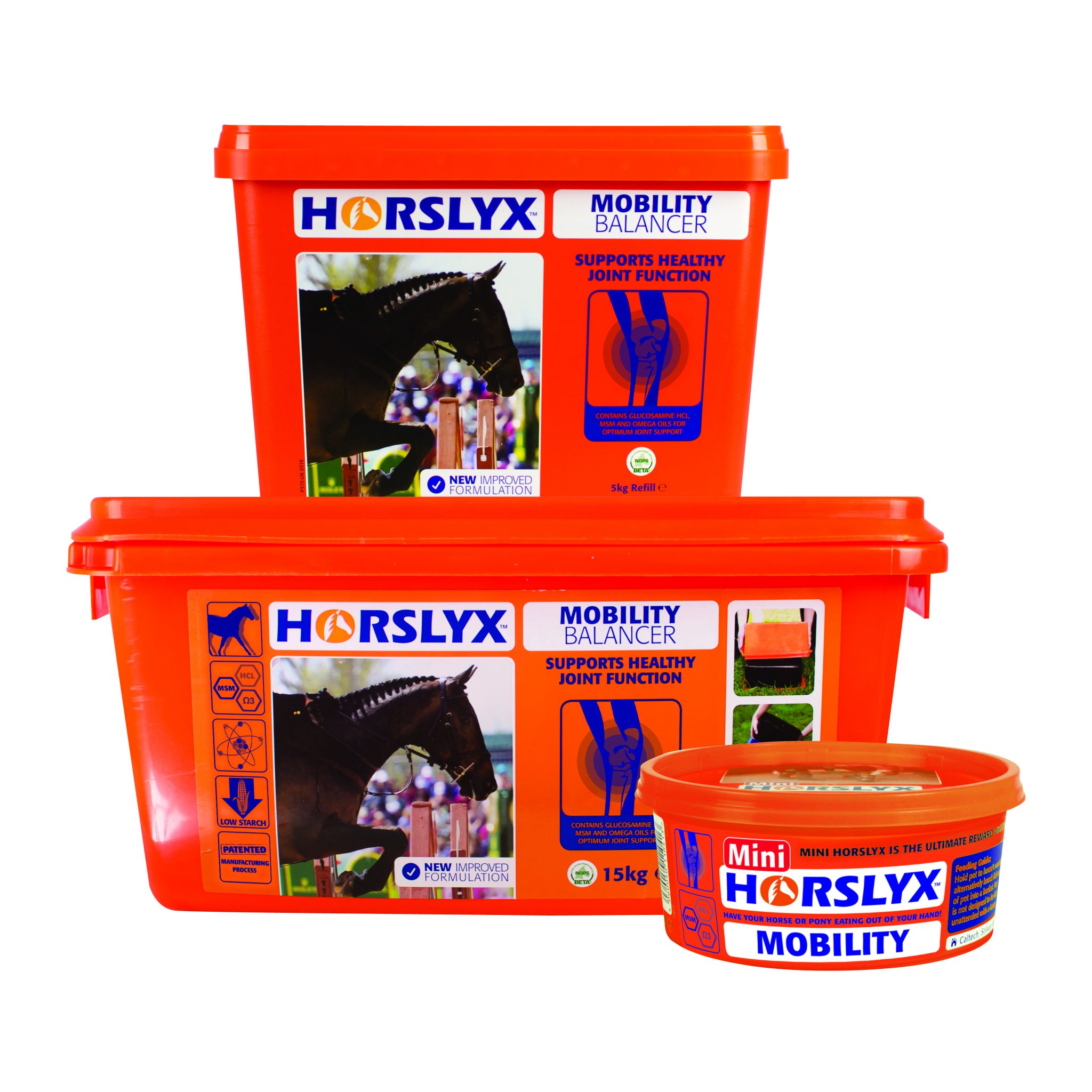 Mobility Horslyx – Ondersteunt gezonde gewrichten!
Mobility Horslyx ondersteunt gezond functionerende gewrichten, zorgt dat de voeding uitgewogen is en bevordert een natuurlijk, gestaag eetpatroon!
Mobility Horslyx bevat…
Glucosamine HCI, MSM en omega-oliën
Het speciale Horslyx pakket met vitamines, mineralen en sporenelementen.
Krachtig antioxidant, vitamine E en seleen voor een gezond afweersysteem.
Gechelateerd koper en zink voor een betere opname van mineralen.
Biotine, zink en methionine voor gezonde benen.
Hoog gehalte aan olie voor gezonde huid en vacht.
Glucosamine is een glycoproteïne die aanwezig is in de gewrichten. Het is een essentieel, natuurlijk bestanddeel van gewrichtsbanden, pezen, kraakbeen en gewrichtsvloeistof, de vloeistof die als schokdemper functioneert en voor smering van de gewrichten zorgt tijdens intensieve activiteit.
MSM is een kant-en-klare bron van organisch zwavel, een belangrijke component van het bindweefsel die belangrijk is voor het kraakbeen en de ondersteuning van gewrichten. MSM werkt nauw samen met glucosamine om een bijdrage te leveren aan de algehele gezondheid van het bindweefsel. Dit bevordert de algehele gezondheid van de gewrichten, waaronder de mobiliteit, flexibiliteit en de bewegingsvrijheid. MSM heeft tevens sterke eigenschappen als antioxidant.
Omega-3 en -6 oliën en zijn te vinden in plantaardige vetten en vis. Deze essentiële vetzuren die het lichaam niet zelf kan aanmaken en derhalve uit de voeding moeten worden opgenomen, spelen een nuttige rol bij de beperking van ontstekingen en de ondersteuning van het afweersysteem.
VERKRIJGBAAR IN
[wbcr_php_snippet id="9893″]
Waarom kiezen voor Mobility Horslyx?
Voor regelmatig gebruik om te helpen bij het behoud van gezonde, soepele gewrichten.
Ontwikkeld om tekorten in voeder en bij vrij grazende paarden te compenseren..
Helpt verveling en stress te beperken.
Weerbestendig – voor gebruik in de stal of het weiland.
Smakelijke kant en klare (lick waarbij geen mengen of toebereiden nodig is).