Hebt u zich weleens afgevraagd hoe voederblokken en lick gemaakt worden?
De drie voornaamste methoden waarmee voederblokken en minerale licks gemaakt worden, zijn persen, chemisch uitharden en koken.
Geperst – De ingrediënten en bindmiddelen worden gemixt en geperst in een kant-en-klaar blok. Dit zijn de gangbare, blokvormige zout licks. Chemisch uitgehard – Er worden chemische middelen aan een vloeistof toegevoegd zodat een exothermische reactie ontstaat. Hierdoor wordt het eindproduct hard en bros. Ze zijn meestal niet weerbestendig en ook de smaak kan door de ontstane geur een probleem zijn (ammoniak/visgeur).
Horslyx is gekookt – Dit unieke, gepatenteerde bereidingsproces wordt exclusief gebruikt door Horslyx en bevat geen chemische bind- of vulmiddelen en evenmin hardmakers. Bij deze methode worden de basisingrediënten gekookt tot een stroperige substantie waarbij de suiker kristalliseert. Als het mengsel afkoelt, worden de vitamines, mineralen en sporenelementen eraan toegevoegd, net als Prairie Meal voor eersteklas proteïnen en de extra ingrediënten voor Respiratory, Mobility en Garlic Horslyx.
Wanneer het product volledig is afgekoeld, is het stevig en hard geworden.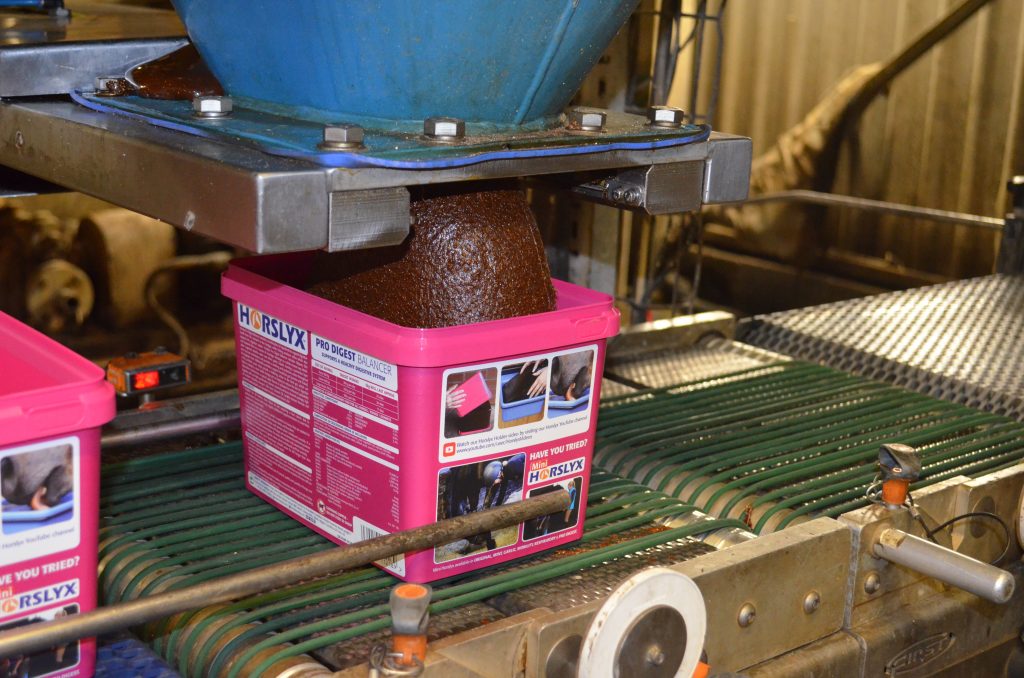 DIT IS EEN GEPATENTEERD PROCES EN HORSLYX IS HET ENIGE PRODUCT VOOR PAARDEN IN EUROPA DAT MET BEHULP VAN DIT UNIEKE BEREIDINGSPROCES WORDT GEMAAKT. DE VOORDELEN VAN DIT UNIEKE PROCES ZIJN…
Geen chemische hardmakers, geen ongewenste vul- of bindmiddelen, geen kunstmatige kleurstoffen, conserveringsmiddelen of smaakmakers!
Bijzonder laag vochtgehalte – sommige chemisch uitgeharde licks kunnen meer dan 20% water bevatten! Horslyx bevat ongeveer 5% dus u koopt een echt product, geen water!
Weerbestendig – voor gebruik in de stal of het weiland
De lick wordt zacht op de lichaamstemperatuur van het paard. Dat zorgt ervoor dat Horslyx makkelijk in de darm wordt afgebroken en goed verteerbaar is. Op die manier wordt voorkomen dat door onverteerd voedsel het spijsverteringskanaal geblokkeerd raakt en een koliek ontstaat.
Als u de volgende keer dus aan voederblokken en minerale licks denkt, weet u… Niet elke lick is gelijk!