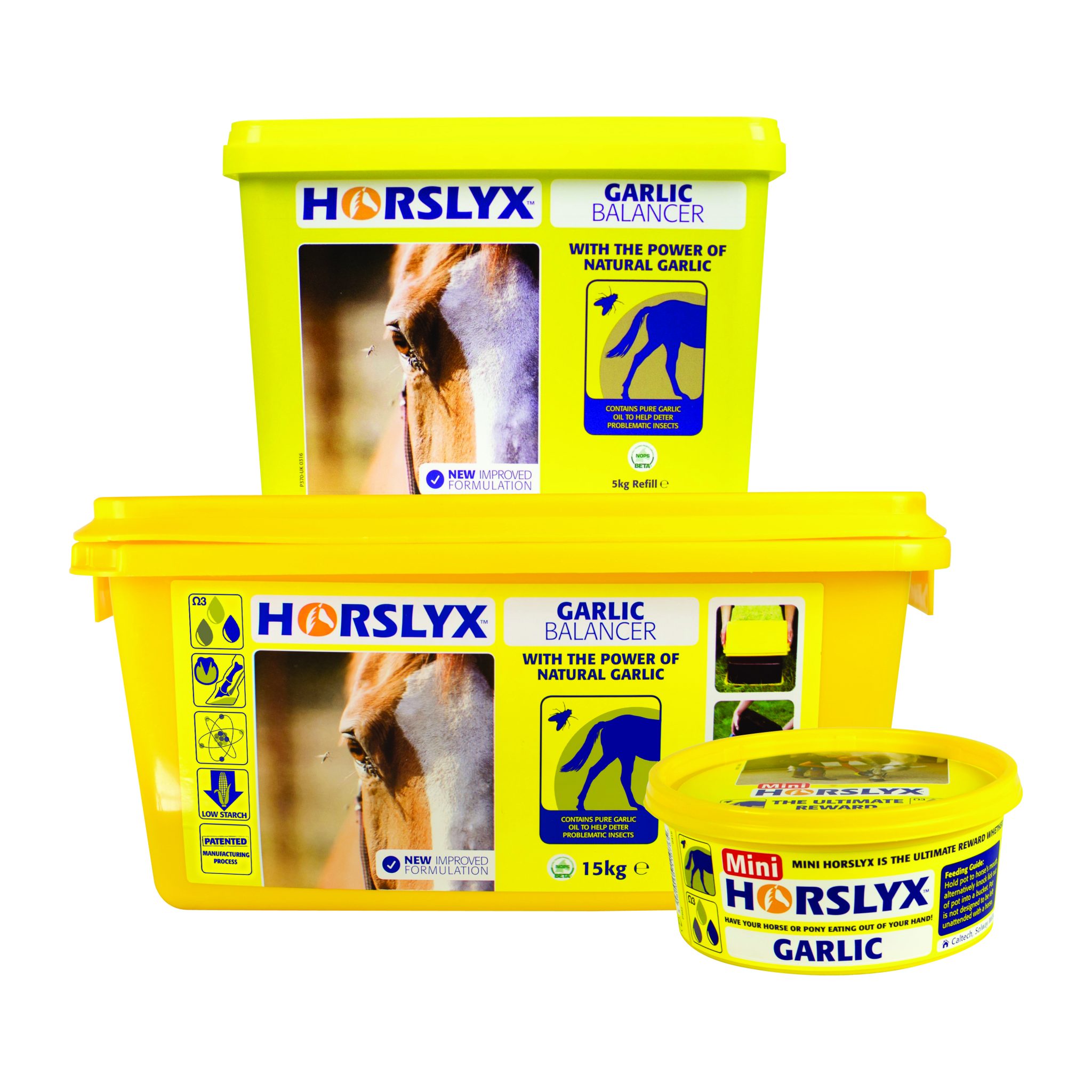 Garlic Horslyx – Met de kracht van natuurlijk knoflook!
Garlic Horslyx is een effectieve methode om natuurlijk knoflook te voeren, zorgt dat de voeding uitgewogen is en bevordert een natuurlijk, gestaag eetpatroon!
Garlic Horslyx bevat…
Zuivere knoflookolie.
Het speciale Horslyx pakket met vitamines, mineralen en sporenelementen.
Krachtig antioxidant, vitamine E en seleen voor een gezond afweersysteem.
Gechelateerd koper en zink voor een betere opname van mineralen.
Biotine, zink en methionine voor gezonde benen.
Hoog gehalte aan olie voor gezonde huid en vacht.
Knoflook wordt al honderden jaren aan paarden gegeven vanwege een groot aantal gezondheidsvoordelen. Het voeren van knoflook is een populair middel tegen vliegen en functioneert doordat het hoge zwavelgehalte van knoflook door de huid wordt afgegeven via de transpiratie, zodat een onzichtbare hindernis ontstaat die een afstotende werking op vliegen heeft. Ook al blijven ze om het paard heen vliegen, toch landen ze minder vaak op de huid, waardoor de irritatie en rusteloosheid die gewoonlijk te zien is afnemen.
Men gelooft dat knoflook het hele jaar door zeer goed is voor de gezondheid.
VERKRIJGBAAR IN
[wbcr_php_snippet id="9893″]
Waarom kiezen voor Garlic Horslyx?
Voer het 's zomers om bijtende insecten beter af te schrikken.
Wie dit het hele jaar door verstrekt, profiteert van de gezondheidsvoordelen van knoflook.
Ontwikkeld om tekorten in voeder en bij vrij grazende paarden te compenseren.
Helpt verveling en stress te beperken.
Weerbestendig – voor gebruik in de stal of het weiland.
Smakelijke kant en klare (lick waarbij geen mengen of toebereiden nodig is).