Original Horslyx
O Original Horslyx foi o primeiro produto Horslyx e foi lançado em 1997 e apoia a saúde e vitalidade do cavalo, balanceia deficiências em volumosos e pastagens e encoraja um padrão de alimentação natural e em pequenas porções (trickle feeding).
Original Horslyx contêm:
O conjunto Horslyx com alta concentração de vitaminas, minerais e elementos vestigiais
Vitamina E e selênio – potentes antioxidantes para apoiar um sistema imunológico saudável
Cobre quelato e zinco para melhor absorção de minerais
Biotina, zinco e metionina para cascos saudáveis
Alta concentração de óleo para pele e pelos saudáveisO conjunto Horslyx de alta concentração de vitaminas, minerais e elementos vestigiais foi elaborado para complementar deficiências nutricionais frequentemente encontradas em volumosos e pastagens. Para muitos cavalos, uma dieta de Horslyx e volumoso é o suficiente. Muitos cavalos recebem a quantidade necessária de energia quando simplesmente alimentados com Horslyx e volumoso (capim/feno/haylage). Para cavalos que requerem níveis mais altos de energia, o Horslyx pode ser usado com grãos ou rações com níveis mais altos de calorias e fibras.
Available in…


Por que escolher o Original Horslyx?
Elaborado para balancear deficiências de nutrientes em volumosos e pastagens.
Auxilia na redução de tédio e estresse.
Resistente ao tempo – pode ser usado nas cocheiras ou piquetes
Lambedor palatável não requer misturas ou preparo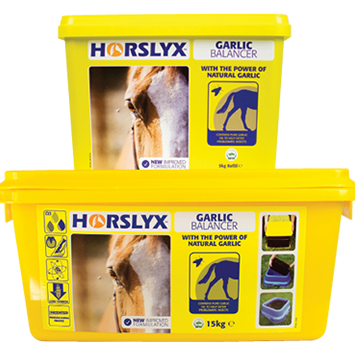 Horslyx Garlic Balancer
Horslyx Garlic Balancer contains pure garlic oil to help provide a natural and effective way to help combat the problem of biting insects.
more…

Horslyx Mint Balancer
Horslyx Mint Balancer is a palatable, nutrient rich lick containing vitamins, minerals and trace elements to balance the deficiencies in forage and grazing with peppermint oil for a cool refreshing flavour.
more…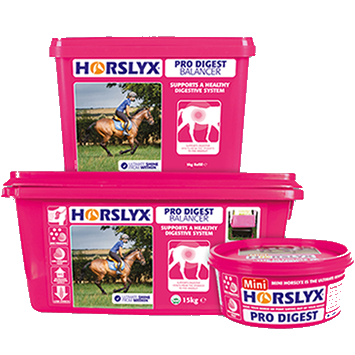 Horslyx Pro Digest Balancer
Horslyx Pro Digest Balancer contains a combination of ingredients to support the digestive system from the stomach to the hind gut while licking enhances saliva production which helps buffer stomach acidity.
more…