Original Horslyx
Original Horslyx var debuten Horslyx lansert i 1997 og støtter generell helse og vitalitet, balanserer manglene i grovfôr og beite og oppmuntrer naturlig appetittfôring.
Original Horslyx inneholder …
Horslyx høyspesifiserte vitamin-, mineral- og sporstoffpakke.
Kraftige antioksidanter, vitamin E og selen, for å støtte et sunt immunsystem.
Organisk bundet kobber og sink for forbedret absorpsjon av mineraler
Biotin, sink og metionin for sunne høver.
Høyt oljeinnhold for sunn hud og pels.
Horslyx høyspesifiserte vitamin-, mineral- og sporstoffpakke har blitt utviklet for å utfylle næringsstoffene som ofte mangler i grovfôr og beite.  For mange hester er en diett bestående av Horslyx og grovfôr alt som behøves.  Mange hester vil få nødvendig energi og næringsstoffer når de blir fôret med Horslyx og grovfôr (gress/høy/høyensilasje). For hester med et høyere energi behov, kan Horslyx brukes sammen med energirikt korn- og fiberfôr.
Available in…

Hvorfor velge Original Horslyx?
Utviklet for å balansere mangel på næringsstoffer i grovfôr og beite.
Reduserer kjedsomhet og stress.
Værbestandig – kan brukes i stallen, i luftegården eller på beite.
Velsmakende slikkestein som ikke trenger blanding eller forberedelse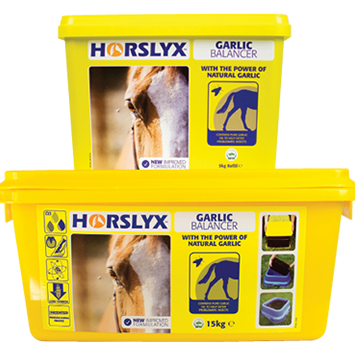 Horslyx Garlic Balancer
Horslyx Garlic Balancer contains pure garlic oil to help provide a natural and effective way to help combat the problem of biting insects.
more…
Horslyx Mint Balancer
Horslyx Mint Balancer is a palatable, nutrient rich lick containing vitamins, minerals and trace elements to balance the deficiencies in forage and grazing with peppermint oil for a cool refreshing flavour.
more…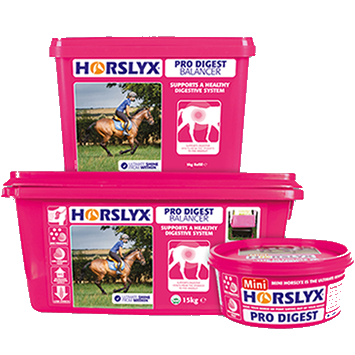 Horslyx Pro Digest Balancer
Horslyx Pro Digest Balancer contains a combination of ingredients to support the digestive system from the stomach to the hind gut while licking enhances saliva production which helps buffer stomach acidity.
more…