Original Horslyx
Original Horslyx è stato il prodotto Horslyx esordiente, lanciato nel 1997 sostiene a tutto tondo salute e vitalità, equilibra le carenze di foraggio e di pascolo e incoraggia regimi alimentari naturali, basati su piccole quantità a intervalli frequenti.
Original Horslyx contiene…
Il complesso Horslyx ad elevato tenore di vitamine, minerali e oligoelementi.
Potenti antiossidanti, vitamina E e selenio, per contribuire ad un sistema immunitario sano.
Rame e zinco chelati per migliorare l'assorbimento dei minerali.
Biotina, zinco e metionina per la salute degli zoccoli.
Elevato contenuto di olio per la salute della pelle e del pelo.
Il complesso ad alto tenore di vitamine, minerali e oligoelementi di Horslyx è stato ideato per integrare le carenze nutrizionali che spesso si riscontrano nel foraggio e al pascolo. Spesso, tutto ciò che occorre a molti cavalli è una dieta a base di Horslyx e foraggio. A molti cavalli basta un'alimentazione semplice a base di Horslyx e foraggio (erba / fieno / fieno silo) per ricevere la quantità di energia e sostanze nutritive richiesta. Per cavalli con un fabbisogno energetico più elevato, è possibile usare Horslyx accompagnato da mangimi a base di cereali e fibre ad alto contenuto calorico.
Available in…


Perché scegliere Original Horslyx?
È ideato per bilanciare le carenze nutrizionali presenti nel foraggio e nel pascolo.
Aiuta a ridurre noia e stress.
Resistente alle intemperie – può essere utilizzato in stalla o nei campi.
È un integratore da leccare gradevole al palato, che non necessita di miscelazione o di preparazione.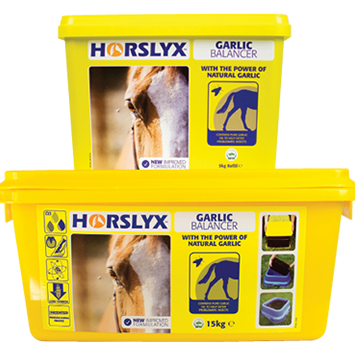 Horslyx Garlic Balancer
Horslyx Garlic Balancer contains pure garlic oil to help provide a natural and effective way to help combat the problem of biting insects.
more…

Horslyx Mint Balancer
Horslyx Mint Balancer is a palatable, nutrient rich lick containing vitamins, minerals and trace elements to balance the deficiencies in forage and grazing with peppermint oil for a cool refreshing flavour.
more…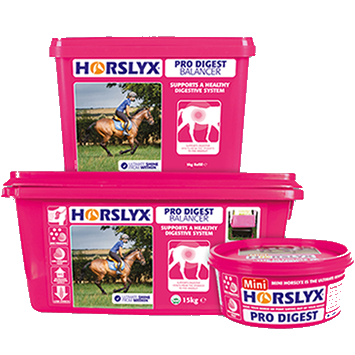 Horslyx Pro Digest Balancer
Horslyx Pro Digest Balancer contains a combination of ingredients to support the digestive system from the stomach to the hind gut while licking enhances saliva production which helps buffer stomach acidity.
more…